News
Read news about pubs and campaigning issues affecting Real Ale and Pubs in London and further afield.
27 October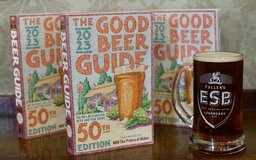 CAMRA London is celebrating the 50th edition of the Good Beer Guide in one of only five pubs that have been listed in the Guide every year, but the story of London's beer and pubs over 50 years is a mix of celebration, as well as sorrow.
The event was held at the Star Tavern in Belgravia at 4pm on the 27th October 2022. Not only is it one of the 'Famous Five' – being one of just five pubs to feature in every single edition of the Good Beer Guide - but it continues to sell beer from the only London brewery left that appeared in the very first Guide in 1974. For more details see: gbg launch 2023 press release.
To order your copy, visit https://shop1.camra.org.uk/product/the-good-beer-guide-2023/
29 July
Brewery Updates
New breweries:
Anomaly (New Malden, appeared at Egham BF at Easter, and will be at their summer one); Br3wery (Beckenham, first bottled beers available from start of May); Brithop (Belvedere, cuckoo at Franklins in Sussex, widely available around SE London); Common Rioters (Plumstead, cuckoo brewing started at Brew Buddies, available locally in cask and bottles, still looking for own site); Ealing (Brentford, the extension of the Marko Paolo brewery, beers now available in thieir pub); Little Creatures (Kings Cross, a large American style brewpub with large tanks behind the bar for the beer and brewery by the entrance, started brewing its own beer at the end of May); Perivale (Perivale, appeared as if by magic at Easter with subsequent once a month openings).
Changes: Boxcar (Bethnal Green, now brewing at their new site just along from Old Street brewery); Brands Reunited (Catherham, out of London, "brews" Watney beers at Sambrooks, name changed to Watney Beer Company); Brewheadz (Tottenham, premises taken over by Ora who are now the main brewers with Brewheadz cuckoo brewing on their original kit!); Bianca Road (Bermondsey, moved from an industrial estate to two railway arches bang in the middle of the Bermondsey Beer Mile); Muswell Hillbilly (the ex-Hale kit has been delivered to the unit adjoining the taproom, the new location for the brewery rather than upstairs further along the mews. No announcements from Hale about their replacement kit or rumoured move to Walthamstow).
Suspensions/Closures:
Alphabeta (Aldgate, restaurant closed in June, future of brewery uncertain); Big Smoke (Surbiton, moved out to Esher); Hop Stuff (Thamesmead, went into (pre-pack?) administration after problems with site owners and emerged owned by Molson Coors! No time scale for full re-opening that I have heard of); Portobello @ George & Dragon (Acton, reported that Portobello has left, the kit needs repairing and reverted to the Dragonfly brewery ready to be hired out; Redchurch (Bethnal Green, another (pre-pack?) administration with the HQ now Harlow and brewing suspended at Bethnal Green, kit possibly removed?); Two Finches (Finchley, a visit revealed it has not brewed for some time but no confirmation if kit removed).
Planned:
Fearless Nomad (Brentford, kit delivered to the Black Dog in April with test brewing due to start in July); Goodness (Wood Green, test brewing started in June); Jawbone (Strawberry Hill, building work on premisis started in July); Jiddlers Tipple (Wood Green, homebrewer announced going commerical in July but contract brewing elsewhere for the moment); London Fields (London Fields, test brewing on replacement kit); Pinnora (Pinner, reported to be test brewing); Plum Tree (Plumstead, new micropub with long term plans to include a brewery at the rear); Sambrooks (Battersea, announced plans to move into the revamped Ram Quarter in Wandsworth to be joined by the private Ram brewery already on site); Second Wave (West Norwood, test brewing on new kit); Signature (planning to move to a new site); Sly Beast (moving into the Brewery Tap/ Ram Inn at the Ram Quarter in Wandsworth in August with brewery to follow); Truman (announced plans to move to a new site in Walthamstow and also a brewpub in the East End near their spiritual home); Urban Alchemy (New Barnet, appeared at the E&B AGM with big plans but nothing since).
13 July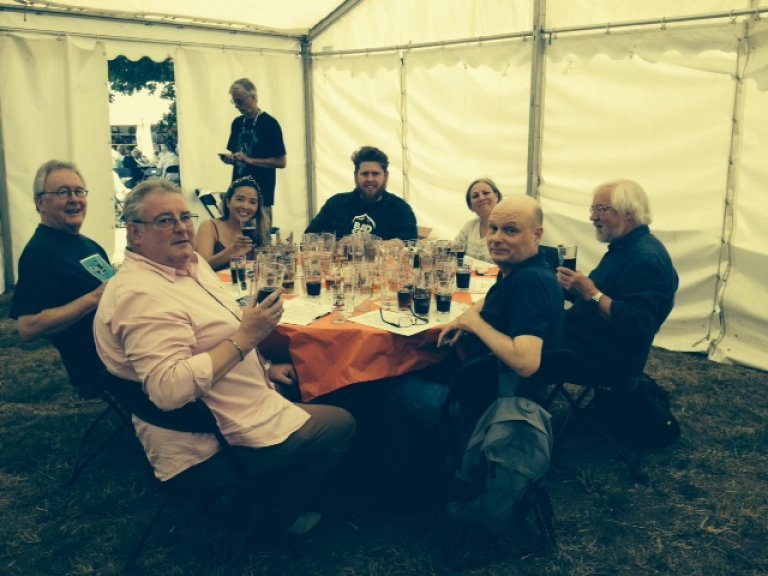 London favours the dark.
Ealing Beer Festival in Walpole Park hosted CAMRA's third champion beer of London, featuring beers from all over London chosen by members' CBOB voting and the London Tasting Panel.
The judging panels were made up of Tasting Panel members, beer writers, brewers and publicans, sipping and smelling their way through 26 cask ales. The bias this year was towards the dark, with Five Points Railway Porter taking gold, followed by Tap East's East End Mild and Wimbledon taking Bronze with XXXK Vintage Ale, a barley wine at a mere 10% ABV!
The other category winners were:
Old Ales & Strong Milds Twickenham Gothick Dark
Bitter Twickenham Grandstand Bitter
Best Bitter Sambrook's Junction
Strong Bitter Fuller's ESB
Stout London Brewing Co 100 Oyster Stout
Speciality Tap East Coffee in the Morning
Golden Ales Twickenham Naked Ladies
15 April
The CAMRA discounts page has been updated.
25 March
Brewery Updates
New breweries:
Beavertown (Tottenham) opened a brewery last week in the new Tottenham Hotspurs ground but assumed to be available only to ticket holders; Earth (Wood Green) started their first brew on 12th March in their new brewery following years of cuckoo brewing at various other brewries, beers will be available at their nearby Earth Tap bus; Inkspot (Streatham) have been brewing since last October un-noticed with their beers being available in the bottle shops they own; Mad Yank (Pinner) started from their home with the first brews available on keg and in bottle at the Beer Asylum in Pinner.

Changes:
Fullers announced proposed sale to Asahi as widely reported; Park (Norbiton) did their first brew at their new home in Norbiton in the first week of February; Oddly (Tottenham) beers are now coming from their new Tottenham location; St John at Hackney (Hackney) changed names to Hackney Church.

Planned breweries:
Br3wery (Beckenham) is home brewing and will go commercial once their licence comes through any time now; Goodness (Wood Green) showed off their nice new shiny kit last weekend which is due to be commissioned soon with brewing hopefully commencing by end of May, they cuckoo on the House kit at the moment; Second Wave (West Norwood) had their kit delivered in early February and hope to be in production by Easter, their beers coming from Black Wolf at the moment.

Suspensions/Closures:
Big Smoke (Surbiton) removed the last of the brew kit from the Antelope in March; House (Wood Green) now considered suspended. The pub group are not going to use the kit again following the departure of the brewery but the kit remains available if anyone wants to rent time on it; Maregade (Homerton) closed in January citing unable to exist at the current location without a regular taproom income following complaints from neighbours about outside noise.
12 February
CAMRA comments on consult on Redbridge decision to consult on the introduction of a late-night levy
CAMRA Regional Director Geoff Strawbridge said:
It is disheartening to see councils still considering the use of Late Night Levies to generate income for the local area. These levies are a blunt force tax that unfairly penalises community pubs, adding yet another financial burden to licensees' bottom lines.
Community pubs should be encouraged to thrive and not be hit with further costs. The imposition of a levy could mean valued neighbourhood pubs closing earlier, or possibly closing down.
27 January
Brewery Updates
New breweries:
Inkspot, after a long gestation period of a few years, there is beer in the fermenters so now considered brewing; Little Faith, taproom opened in Deptford SE8 in December but beers are cuckoo brewed at Franklins with no intention of brewing on site; Mothership, another UBrew cuckoo found; Mutineers, Bromley, now active, details found via Bromley branch, brewing since last summer, mostly test brews available at the One Inn The Wood in Petts Wood; Workshy, another UBrew cuckoo but based in Richmond and some smaller brews are done on the kit in their house.

Changes:
Bloomsbury, brewed at Big Hand in Cornwall, now brewed at Southwark, and possible brewery back at the Perseverence WC1; Oddly, moved from Hampton to Tottenham with first beers from Tottenham in the fermenters

Planned breweries: Goodness, Wood Green, to open taproom in February and brewery to follow late March or April; Fellowship, Bellingham SE6, planned in the refurbished pub and run by Laines, the pub is now going to be run by the Electric Star group and unknown if it will include a brewery; Mad Yank, home brewer in Pinner applied to sell beers via their website; Pinnora, formerly a home brewer or hoax in Pinner, new premises found and applications submitted in January; Second Wave, opened a taproom in West Norwood selling their beers but with no brewery on site, assume brewed elsewhere but brewery to be installed by Easter.

Closing breweries Big Smoke, final brew done at Antelope on 26/1, moving to Esher; Brick, removed the Peckham site as a brewery as nothing there now, all done at Deptford; Laines, South Hackney, the People Park Tavern sold to Youngs in December, future of on site brewery unknown.
25 January
Fuller's sell brewing business: CAMRA issues press release
Campaign for Real Ale statement in response to the sale of the Fuller's brewing business to Asahi.
CAMRA chairman Jackie Parker said: "CAMRA is always concerned about any consolidation in the brewing industry as it could result in a reduction in choice, value for money and quality for beer drinkers. We're also wary of one company increasingly controlling a larger and larger share of the market, which is seldom beneficial for consumers".
"Fuller's has been a family brewer in Britain for more than a hundred years, and it's a very sad day to see such a well-known, historic and respected name exit the brewing business.
"It would be very disappointing to see the character of Fuller's beers change as a result of the deal. While the Fuller's family has stressed it has sought to protect the heritage of the Griffin Brewery, we'd call on the new owners to pledge to continue brewing operations at the Chiswick site as well as show a commitment to not only continuing cask beer production, but to preserve the full range of Fuller's, Dark Star and Gale's beers."
23 January
Young's purchases Redcomb pubs
The London based pub company has revealed it has acquired Redcomb, owner of 15 pubs in London and the south east, and is looking to further expand. This will take the number of managed pubs to 200.
The pubs include the Village Inn, Ealing, the Alphabet in Islington, the Coach & Horses in Greenwich, the Station Hotel at Hither Green, Manor Arms in Streatham and Old Shades on Whitehall.
Young;s plans to invest in the pubs over the next two year. Young's CEO Patrick Dardis said: "The acquisition of these pubs represents an excellent opportunity to continue the growth of the Young's managed estate. They fit very well with our expansion strategy which is focussed on high quality managed houses. These pubs are all in prime locations, where our premium offer will work extremely well."
1 October
The list of London Breweries has been updated reflecting the following news:-
New - Brixton, new site at Loughborough Junction now formally launched, old Brixton site retained and still brewing small batch; Broken Drum, former home brew given away is now an official brewery and now sold, kit remains at brewers house, not the microbar; Hop Stuff, new site in Thamesmead SE28 now in full production, staff at the Taproom say nothing is used at the old location and Tweets today show FVs being removed.

Changes - Belrose, confirmed with the brewer that test brewing continues but problems with over heating, cuckoo brewed at London Beer Lab at the moment; Brewhouse & Kitchen (Hoxton), not brewing yet, licence was delayed and has only just come through at end of September, will start soon; Earth, possibly now cuckoo at Bohem, available at Earth Tap which is a joint venture with Bohem?; Goodness are cuckoo brewing at Sentinel in Sheffield while the Wood Green unit it kitted out; Short Stack, the Howling Hops plant under the Cock E8 is brewing again after test brews earlier in the year; St Mary's, after a visit by North London CAMRA and a beer tasting with the brewers, the kit is in full production but larger runs are still done at UBrew, the bottle label confirms which site the contents come from;

Closed - Brewery Below, confirmed it has been sold and probably removed by now; Streatham, reported as winding down production and closing; Wild Card, confirmed by visiting that no brewing kit remains at the Brownswood site, all brewing done at Lockoowd now, Brownswood just used as a taproom;

Planned - Battersea; new brewery and bar opening in the Power Station development, towards the end of the year; Camberwell Union, large residential estate development by Burgess Park includes a high profile brewery and taproom in the central square; Fearless Nomad, brewery at the Black Dog Beer House in Brentford, due to open in October; Forest Road, currently coming from Belgium, have found premisis in Shoreditch and are installing at the moment; Goose Island, meant to have opened in former Drunken Money in September but no news yet; Gravity Well, now on site in Leyton E10 installing kit; Little Creatures, plans submitted for brewery and taproom, similar to the Old Brewery, at the rear of Kings Cross; Park, new premisis found in Norbiton near AFC Wimbledon, moving in during the Autumn;
19 September
Fuller's launch Pilot Brewery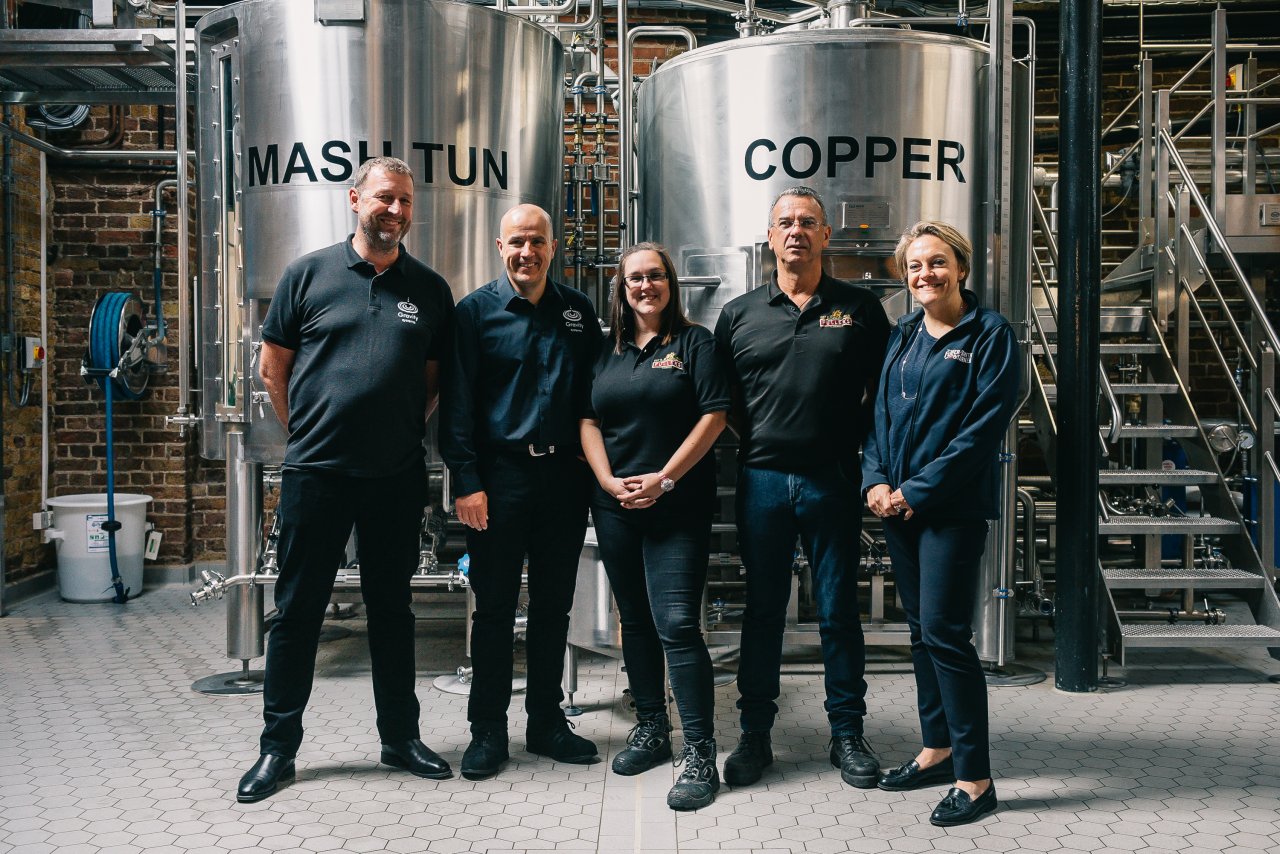 Located in the Brewery Shop, the pilot brewery was installed earlier this year and brewing commenced in August. It offers its brewers the opportunity to create some more experimental beers in small quantities. The new plant produces around 10 barrels (40 firkins) of beer per brew which can then be packaged in bottle, cask or keg. The plant has an infusion mash tun, a copper/whirlpool with an external wort boiler, four fermentation tanks and two bright beer tanks – all provided by Gravity Systems Ltd. Hayley Marlor has been managing the installation and the first brews. The first five beers to be brewed and packaged in the plant are: Beer One (7.0% ABV), a strong ale based on the Golden Pride recipe; Galaxy Pale (4.0%ABV), a pale ale made with Galaxy hops; Grapefruit IPA (5.7% ABV), made with real grapefruit peel and juice; Thai Stout(4.8% ABV), made with Thai spices and a New England IPA (5.5% ABV), in which the brewers experimented with Cryo Hops.
28 August 2018
Earth Station Brewery opens in the Royal Docks
Pub in Battersea given new lease of life
What's happening to the derelict Victoria pub on Woolwich Road?

24 August 2018
Mosaic secures new site in Greenwich
The pub company has purchased a virtual freehold on Greenwich's New Capital Quay development opposite Fuller's Sail Loft.
St Pancras Wetherspoons to be unbranded JDW's planned new pub at St Pancras International Station will be a "non-branded and bespoke" venue. The Barrel Vault will be on the ground floor and have a lengthy glazed frontage along Pancras Road with patio style seating. The pub is due to open on the 25th September.
Recent London Press Stories
Upper Holloway boozer the Lansdeer Arms scoops CAMRA award
Barnet's Ye Old Mitre urges pubs code adjudicator to publish evidence of improvements
Burn Bullock and World's oldest cricket green under threat
Shocking state of pub closures in Merton revealed
Darwin & Wallace to open their seventh site in Ealing
Brighton pub The Joker opening branch in South Croydon
What to expect at new Whelans in Croydon
Wine Bar & Nursery for Archway Tavern rejecred whilst Corbyn urges pub to reopen
Guy Richie to lease Lukin pub

17 August 2018
Urban Pubs & Bars leases 14th establishment
The former Realpubs owners, Nick Pring and Malcolm Heap, have secured the lease on The Opera Tavern in Covent Garden. The company is expanding with other pubs in the process of being exchanged.
13 August 2018
Recent London Press Stories
Ei Publican Partnerships backs £168k landmark pub facelift
Stonegate invests £205,000 in London pub garden
London pub bosses on how to keep the great British pub tradition alive
Harrow Weald pub reopens having been closed for over a year
White Hart in Elthan closes suddenly
Mikkeller and Rick Astley open bar together in London
JD Wetherspoon pub The Grapes officially closes its doors
Fire breaks out in flat above the Crown in Sutton
Are you being served? How two Camden pubs are rising from the ashes after closure
Camden Town singer Suggs' plea to save Good Mixer The Gunners pub 'not under threat' after secret licensing meeting
1 August 2018
Young's open pub in new development. The Wandsworth based pubco has opened the Naturalist in a new Berkeley Homes development close to the Woodberry Down reservoir and Manor House tube..
31 July 2018
ETM open new bar at Westfield The ETM Group has opened Maple as part of Westfield London's expansion. It has a central bar dominated by six copper beer tanks offering "unfiltered craft beer". Last month, ETM Group announced it will launch a two-storey pub called the Redwood next to The Shard at London Bridge.
Star looking for operator to run Goat in Shirley The pubco arm of Heineken is hoping to reopen the Goat as the Apple Tree. The pub closed following a violent attack close to the premises in March 2017. "Transformational refurbishment works are planned and once complete, the venue will be a relaxed family-friendly pub with good food and welcoming surroundings." says the website.
30 July 2018
City Pub Company takes on three more pubs in London
The leases of the Jam Tree pubs in Chelsea and Clapham have been taken on by the City Pub Company along with the freehold of the Travellers Friend in Woodford. This takes the company upto 46 pubs.
Denmark Arms in East Ham closes tonight The Greene King owned pub has confirmed on Facebook that it closes tonight. There are rumours that Antic have bough the lease but this is not confirmed.
9 May 2018
Truman's take over Newman Arms
The East London Brewery has bought the lease of the pub in W1. More details here.
3 May 2018
Fuller's buys four pubs from We Are Bar Group
The Chiswick based brewer and pub company has agreed to acquire four sites from the bar operator We Are Bar Group. Two of the sites are already completed, with two due to follow in a few weeks. The four sites are: Jamies in Creechurch Lane EC3, Jamies in Fleet Place EC4, Jamies in London Bridge Street, SE1 and The Saint in Paternoster Square EC4.

Commenting on the deal, Fuller's Inns Managing Director Jonathon Swaine said: "We are delighted with this acquisition. The four bars are all in the heart of the City and are a great fit with our existing sites and strategy. We are very excited about these venues and to welcome the teams in the bars to the Fuller's Family."
20 February 2018
Fuller's buys Dark Star The London brewery and pub company has bought 100% of the shares in the Sussex Brewery which will continue to operate at Dark Star's Partridge Green site as a standalone business.



MD James Cuthbertson said: "Since our inception in 1994, we have continuously grown from those early days in The Evening Star Pub in Brighton to the current brewery in Partridge Green. The partnership with Fuller's, another independent brewery with fantastic heritage and great beer at its very core, will allow us to take the brewery to the next level. The deal means we will continue to do what we do, but gives us huge opportunities to brew more one-off small batch beers hand-in-hand with exploring the export market and expanded bottle and can formats."
Simon Dodd, Managing Director of The Fuller's Beer Company, said: "Following on from the success we have had with our acquisition of Cornish Orchards, we have been looking at similar opportunities to invest in and work with young, exciting companies that have a similar ethos and commitment to quality as Fuller's. Following discussions with James and the team at Dark Star, we could see that we could add real benefit to the Dark Star business and it provides a great new range of delicious cask beers that will enhance the Fuller's portfolio.
"Both Fuller's and Dark Star are brewers with quality and taste at their heart. I just can't wait to see how Dark Star innovates further with the support of Fuller's and access to our expertise in brewing, retailing and business elements such as finance, purchasing and IT systems."
28 November 2017
CAMRA North London will be hosting the first ever competition to find the best low alcohol beer brewed in London at the London Drinker Beer & Cider Festival in March.. The competition is open to any beer of 3% ABV or lower with the aim of showing that a beer doesn't have to be strong to be tasty. Alcohol education charity, Drinkaware, are sponsoring the competition.
The Festival's organiser, Christine Cryne, said "We welcome entries from any brewery, big or small, in any format, draught, can or bottle, the more the merrier! And we have put together a fantastic list of experienced judges to find us the very best beer. Anyone interested in putting in a beer, or even two, to this inaugural competition, which is free to enter, should contact me.
9 October 2017
CAMRA London condemns the introduction of a late-night levy in Tower Hamlets, which will see pubs in the area hit with yet another tax bill, at a time when the business rates revaluation has seen many of the capital's pubs facing unprecedented rises in their rates.
Tower Hamlets joins the City of London, Islington, Camden and Hackney to be the fifth London council to agree a late-night levy, a tax that forces licensed premises to pay for policing the streets at night.
Local pubs that are licensed past midnight will be expected to pay the tax, regardless of whether they continue serving or trading late into the evening.
John Cryne, Chair of London Region CAMRA says: "We are seeing a worrying trend across London of more and more councils considering late night levies, without thinking of the effect this will have on valued community pubs. We are proud of the variety of pubs that we have across London, but introducing a levy is just penalising local businesses when the majority contribute positively to the night time economy. What is the point in having an all night tube if there is nowhere to go?"
"Late night levies are a blunt instrument, and unfairly penalise pubs - most of which are hubs of responsible drinking. Coupled with the introduction of crippling business rates, pubs in Tower Hamlets face rapidly rising costs - which will either result in more pub closure or higher prices for consumers."
The levy, which can be up to £85.38 each week, depends on the size and rateable value of the premises and was agreed by Tower Hamlets Council on September 20th.
25 May 2017
The June/July copy of the London Drinker is now available to download from here.
20 April 2017
The Mayor of London has issued a press release - Shocking data reveals number of pubs in London fell by 25% since 2001
9 February 2017
Plan revealed to turn Pakenham Arms into office space
Mystery Black Cap pub admirer applies for building to be listed
Lambeth vetoes plan to cut size of Camel & Artichoke pub
Residents unite to save historic London Irish pub The Corrib Rest from development into luxury flats
Stonegate acquires trio of London pubs
My Pub: The Guinea Grill, Mayfair

27 January 2017
End of an era for Camden Town's pub scene as Quinn's landlord dies aged 94
Victoria pub in Highgate closes
Greenwood pub, restaurant and sports lounge opens in Victoria.
Plan to re-open Old White Bear in Hampstead given green light as owner pledges 'community hub'
Ealing pub hit by fire reopens
Historic Thomas a Becket pub to become Rock Island restaurant
Sekforde Arms to reopen in June
Madness honour legendary Camden venue The Dublin Castle
For News prior to 2017 go to News Archive